Our Placements
Creating a Holistic and Competitive Learning Environment for Our Students.
Sau KSK alias (KAKU) College of Food Technology and Agriculture's placement cell was initiated in the year 2008.
The objective of the Placement Cell is to impart future-ready skills to our students with an equilibrium of organizational skills, life skills and industry specific skills, thus, making each individual righteously employable and self-sustainable
Placement Goals
Placement Methodology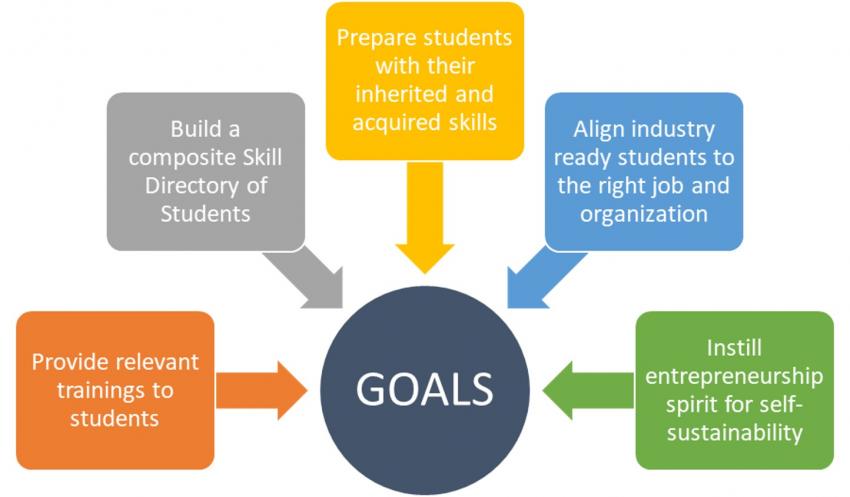 A) In-campus Training Method
Beehive is our Student Career Advancement Center which focuses on train-to-hire approach as well as differentiates entrepreneurship vis-à-vis job-seekers. A customized training & development plan is charted out with a focused group experiential learning strategy.
The programme encapsulates SMART training objectives with the help of proactive Training Need Analysis of each batch across Food Technology and Agriculture.

Our robust Training Partner Affiliations ensures that relevant and expertise training is delivered to our students to fill the lacuna in their knowledge, skills and ability.

Our psychometric assessment tools help us to evaluate the baseline of skill gaps for every student.

Each student undergoes a clinical approach of skill diagnostics and are later prescribed with relevant training modules

Take personalized support of research professors from our R & D wing.
B) In-campus Training Method
Our students take full advantage of our career experts from the industry to choose the most appropriate career options.
Skill-based Development:
 Our Career Suitability Test is a unique tool that showcases the current state of a student's skill and competency level.
 It becomes pivotal for our career experts to guide our students based on their inherited and acquired skill-sets and thereby making them industry ready.
Higher Education Options:
At KSK, our students can opt for M.Sc. in Food Science programme affiliated to YCMOU, Nashik, M.S. We support aspiring professionals who wish to pursue a post graduate degree through distance learning format.
Entrepreneurial Stage:
As a technical college, we instil a culture of entrepreneurial mindset in every student.
 This starts right from the formative blocks of bootstrapping ideas, pitch book, production, supply chain management, go-to-market strategies and entry/exit models for a new start-up.
 We invite entrepreneurs and start-up companies to share their experiences with the students, where students learn the true realities of entrepreneurial ode.
In-plant Training and Internships:
 The Industry Interface Programme (IIP) helps our students to step into the industry with in-plant trainings and internship opportunities with our marquee of recruiters.
 It helms the right ingredient of holistic learning within and outside the college. On the onset of a new academic year, the students undergo a model class format which emphasises on CRT based learning on the fundamentals of entrepreneurial skills, organizational skills, leadership skills, team work, to name a few.
Placement Initiatives
Placement Initiatives
Our placement initiatives are two-fold, namely –
a) To provide a holistic learning roadmap and
b) Create a culture of learning by sharing of experiences and wisdom.
Few of our ongoing initiatives practiced are:
 Scholarships

 Seminars and Workshops

 Industry visits through the Industry Interface Programme (IIP)

 Career Fairs and Internships

 Guest Lectures, Talk-shows, Group Discussions, Case Study Presentations, Project-based learnings from the industry

 Webinars, Conferences, Exhibitions
Placement Process
Placement Process
The placement season begins from the month of March of every academic year for the final year students. The process is robust, flexible and simplified for the Companies as well as the Students. The college aims to present only the targeted students who are eligible for company placement and excludes students who aspire to pursue their higher education and the ones who aim at an entrepreneurial journey. Thus, making the placement process driven by SMART objectives
Schematic View of the Placement Process
         Placement Policy and Important Documents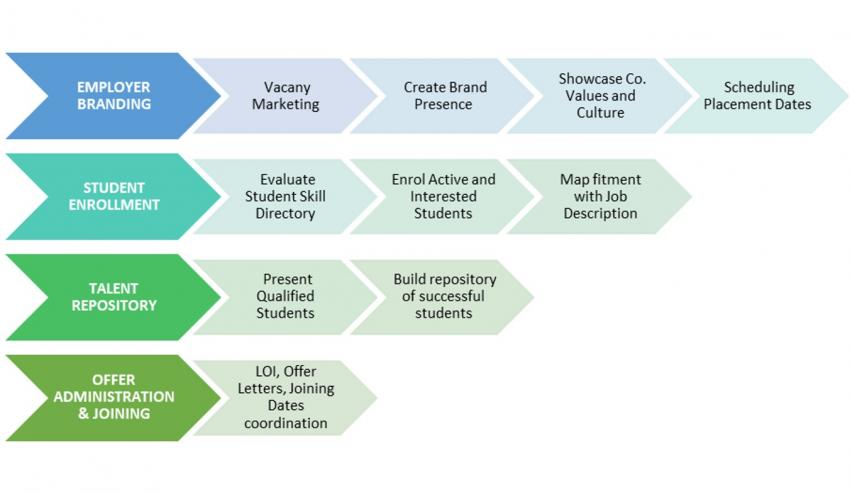 Placement Policy and Important Documents:
1. Placement Policy
2. Student Enrolment Tracker
3. Placement/Internship Registration Form
4. Job Fulfilment Form
5. Year-wise Placement History and Infographics.
Contact Information – Placement Nodal Office
Head of Placements:
Mr. S. A. Dongare
Email Address: kskftc@gmail.com
Contact Number: +91 7775932267
Industry Engagement Practice Leads: