Entrepreneurship Development Cell
About Entrepreneurship Development Cell (EDC)
The skill lab formulated under the Student Career Development Center of KSK College of Food Technology primarily focuses to enhance the proficiency of our young aspiring students. This is performed by providing value added assessments, training and certifications on key entrepreneurial skill-sets required to be successful Entrepreneurs.
EDC Objectives
To produce the future-ready successful entrepreneurs, who, thereby, fulfil the basic fabric of extending economic dividend to the society with their innate, innovative and business acumen skills once they are put into practice.
EDC Framework
The enterprise skill lab of KSK College of Food Technology has been designed to identify and promote entrepreneurial mindsets amongst our students. The right blend of personal effectiveness, business acumen skills and socio-economic factors are the three major learning blocks of EDC.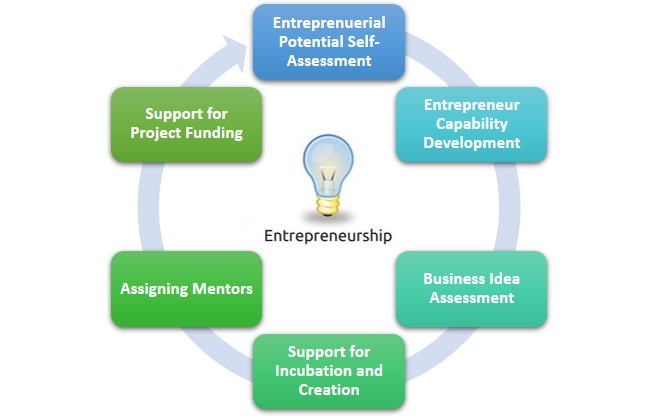 EDC Review Committee
| S. No. | Name of Member | Type of Association | Role of Member | Year of Participation |
| --- | --- | --- | --- | --- |
| 1. | Mr. Indraneel Chitale | Industry Mentor | Mentor | 2020 |
| 2. | Mr. Mahesh Iyer | Capability Enabler | Entrepreneurship Capability Development | 2019 |
| 3. | Dr. Govind. V. Salunke | EDC Sponsor | Program Convener | 2015 |
| 4. | Dr. Vikas. B. Tagad | Practice Lead | EDC Reviewer | 2015 |
EDC Events
| S. No. | Activity / Value Added Projects | Academic Year | Date | Target Customers | Student Participants Count (Beneficiaries) |
| --- | --- | --- | --- | --- | --- |
| 1. |   |   |                                |   |   |
| 2. |   |   |   |   |   |
| 3. |   |   |   |   |   |
| 4. |   |   |   |   |   |
Contact Information - EDC Nodal Office
Head of EDC Practice:
Dr. Vikas. B. Tagad
Email Address: vikastagad9@gmail.com
Contact Number: +91 9420025052